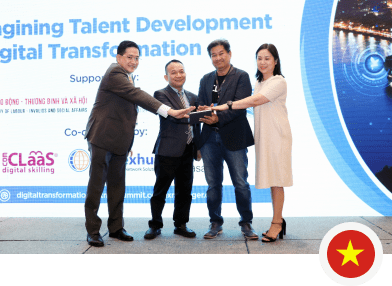 eduCLaaS launched public-private partnerships in Vietnam to deliver inclusive digital skilling
Description
The Digital Transformation Vietnam 2022 Summit was held in Hanoi on 29 November 2022 was co-organized by eduCLaaS and Confexhub with an overarching theme 'Reimagining Talent Development for Digital Transformation'. The summit was supported by the Vietnamese Ministry of Labour, Ministry of Education and Training, and Ministry of Information and Communications.
The Digital Transformation Vietnam 2022 Summit is designed in alignment with the vision of the Vietnamese National Digital Transformation Programme by 2025, with an orientation towards 2030 to accelerate digital transformation through changes in awareness, enterprise strategies, and incentives towards the digitalisation of businesses, administration, and production activities.
The event also provided an opportunity for eduCLaaS and Xprienz Vietnam to exchange signed MoUs with Army Software Park, Thai Nguyen University of Information Technology and Communication and Hong Duc University respectively for collaboration to bridge digital skills gap for inclusive workforce incubation.
After the opening remark by the Vietnamese Deputy Director General, Directorate of Vocational Education and Training (DVET), Mr Leslie Loh – eduCLaaS Founder and CEO, delivered his plenary keynote speech entitled "Bridging the Digital Skills Gap through Innovative Learning Solutions" for sharing his observations and prescriptions for reimagining post-secondary education toward becoming a global common good, by fostering a tripartite partnership across public, private, and non-profit sectors, to deliver inclusive digital skilling for managing digital divide and rising inequality.
Leslie shared his reflection on how the pandemic has provided the inflection point for multi-faceted integration of the post-secondary education systems to bridge the missing connection between education and the workplace for delivering a converged future of learning and work with inclusivity and diversity.
Mr Loh further illustrated how eduCLaaS as a dual-track applied learning platform, supported by a glocalized digital skills coalition, connects post-secondary students, working adults, enterprises, employers, higher education institutions, industry experts, governments, non-profit agencies & technology vendors, delivers inclusive digital skilling with interdisciplinary curriculums, work-integrated learning, interoperable credentials, blended learning technologies, employer ecosystem, and co-financing support for bridging the digital divide and rising inequality at scale across Asia.
eduCLaaS Vietnam is a subsidiary under eduCLaaS Global with headquarters in Singapore. The organisation aims to bring quality education to learners to bridge the skills gap and raise income inequality between big cities and rural areas by creating an ecosystem to reach out to communities across the country.
About eduCLaaS
eduCLaaS is a Pan-Asia Digital Skilling Platform which aims to deliver talent and enterprise growth with CLaaS® for inclusive digital economy transformation. We connect higher education students, working adults, enterprises, employers, and post-secondary institutions for digital upskilling, digital career induction, and digital workforce development.
CLaaS® delivers Competency Learning as a Service to bridge the digital skills gap with competency-based curriculum, work-based learning pedagogy and blended work2learn journey. CLaaS® courses have received accreditations from education regulatory bodies and over 100 international universities.
eduCLaaS, with a network of 100+ campuses, has served over 50,000+ learners, and 2000+ enterprises across Asia with CLaaS®.
Find out more about eduCLaaS at https://www.educlaas.com/